NATA NJ team raises $201001 for 1st convention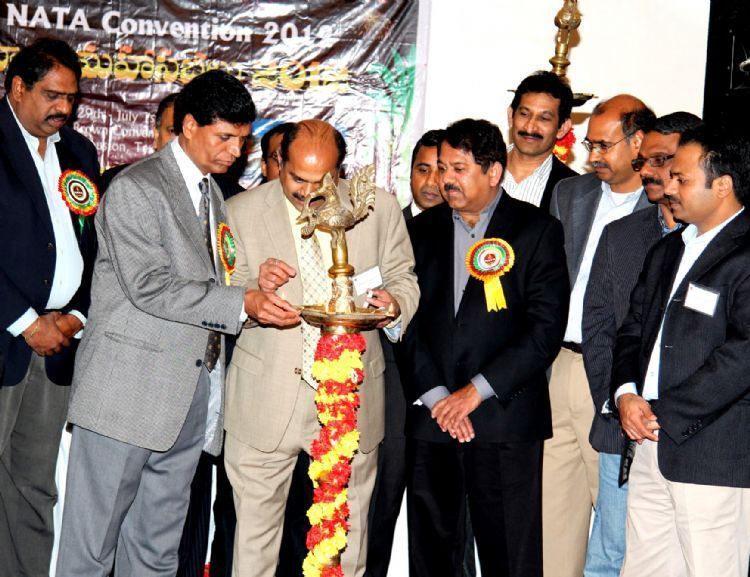 New Jersey: North American Telugu Association (NATA) New Jersey team has raised over $200 thousand in a grand fundraiser in New Jersey for the first Biannual Convention to be held during June 29th , 30th and July 1st at Houston, Texas.

This event was hosted by NATA New Jersey team at Royal Albert's Palace in FORDS, NJ. The NATA organizing team for the event was led by Mahender Musuku BOD, Rajeshwar Reddy Gangasani EVP, Mohan Patalolla BOD, Hari Velkur BOD, Suresh Reddy BOD, Ramesh Chandra RVP and Siva Meka RC.

The event was attended by over 600 NATA members, supporters, Telugu community leaders, physicians, business owners and IT Professionals from the state of New Jersey.

Event started with dance performances by local kids and music from local talent. NATA Advisor Dr. Pailla Malla Reddy and other NATA leaders lit the traditional lamp and started the fund raising proceedings.

NATA President Sri AVN Reddy thanked New Jersey team for organizing such a big event that attracted large numbers of Telugu community and explained that NATA stands for Telugu Culture and Community Service.

He explained the need for the fund raising and requested everyone's generous support. President Elect Sri Sanjeeva Reddy explained the importance of Telugu culture and language. Conference Convener Jithender Reddy grabbed the attention of all participants with his speech in pure Telugu and assured that he will work hard to make Houston Conference a memorable event for everybody.

NATA Conference Advisor Sri Prem Nandiwada spoke about the importance of youth being active in NATA and offered his full support to bring youth to the NATA fold.

NATA Executive Vice President Sri Rajeshwar Reddy Gangasani urged everyone to support NATA activities and contribute generously. NATA Board of Director Mahender Musuku led the fund raising and motivated everyone to contribute generously to reach $201,001.

Ramesh Chandra, Regional Vice President and Siva Meka Regional Coordinator-NJ thanked the convention team members Srinivas Arikatla, Dr. Prem Nandiwada, Anna Reddy, Ramana Reddy Devulapalli, and Vijaya Bhaskar Reddy Battula, PR Committee chair Mahesh Bigala, Community Services Chair Srinivas Ganagoni, team members Arun Ramineni, Krishna Sidhada, Vamsi Koppuravari, Volunteers Satya Nemana, Srinivas Ranabothu and team, TFAS President Anand Paluri, TFAS Ex President Damu Gedala for their help in planning and during the event.

They specially thanked the efforts put by Mahender Musuku, Rajeshwar Reddy, Mohan Patalolla, Suresh Reddy, Hari Velkur and Anna Reddy in making the event so successful. Also thanked BOD Mohan Talamati and Conference Committee member Srinivas Arikatla for their generosity.

NATA Leadership team thanked NATA Regional Coordinator Sarath Reddy Mandapati who sponsored the Fund raising night.

They also thanked RC Sridhar Reddy Thikkavarapu, for covering the event and the dance schools teachers, Swathi Gundapaneni, Divya Yeluri and Indira Dixit.

They also thanked Girija Kolluri, Seshu Babu and team, Krishna Rani and team for their Musical performance and Regional Coordinator Baba Sontyana for entertaining the audience.

NATA Conference Finance Committee Chair Dr. Raghava Reddy Ghosala and Co-Chair Rami Reddy Alla have been coordinating the fundraising events all over USA and participants appreciated their efforts.

NATA President A.V.N Reddy, Advisory Council Dr. Malla Reddy, President-elect Dr. Sanjeeva Reddy, Executive Vice President Rajeshwar Reddy Gangasani, Conference Convener Jithender Reddy, Treasurer Ramsurya Reddy, Secretary Pradeep Samala, Jt. Treasurer Chinna Babu Reddy, BODs Mahender Musuku, Mohan Patalolla, Hari Velkur, Suresh Reddy, Venkat Vaddadi, Phani Bhushan Tadepally, RVPs Ramesh Chandra, Rami Reddy Alla, Babu Rao Samala, Surya Bezawada, Standing committee Chairs Sekhar Konala, Janani Krishna, Mahesh Bigala.

Regional Coordinators Shiva Meka, Anjan Karnati, Bhaskar Bupathi, Mohammed Mujahid Murtiza, Murali (Babji) Tenepalle, Nageshwar Reddy Mukkamanla, Ramakrishnaje, Sahadeva Reddy, Santhosh Reddy Pathuri, Sarath Reddy Mandapati, Sarath Veta, Satish Reddy Gopidi, Satish Reddy Indupuru, Suresh Chatakondu, Vamsi Koppuravuri, Vasantha Gadamshetty, Vishali Bandi, Baba Sontyana, Sridhar Reddy Thikkavarapu, Ravi Hajeebu, Vikram Jangam, K. Suresh Reddy, Narasimha Reddy, Linga Reddy, Satya Nemana were present at event.



News Posted: 17 March, 2012

Be first to comment on this News / Article!




---