Prakasam collector urges NRIs to Adopt villages

Ongole, December 4.The Prakasam district collector G.S.R.K.R Vijay Kumar desires the 'first category of people in society (important people or VIPs)', NRIs, NGOs, VIPs, Corporates, Philanthropists, Ministers, MLAs, etc to adopt one village each and transform it into a smart village, thereby, helping in making Praksam as a smart district.

After taking part in video conference with Chief Secretary (Planning) N.P.Takkar, the Collector reviewed in detail with the district officers.

In the video conference Chief Secretary N.P. Takkar said that Just like smart cities, a smart village should be interactive and multi-functional; there should be active participation of people in various activities. A smart village should have power, knowledge, healthcare, technology, entrepreneurship and internet connectivity.

He directed the district collector to identify the growth potential sectors and investement sectors. He said that adopt villages with the help of NRIs and NGOs for development.

Expressing concern over the 51 crore DWAKRA products the chief secretary said that to organise MELAs to sell DWAKRA products before december 2015.

The planning department and Unicef will bring out the guidelines defining smart villages and what components need to be taken up to transform them into smart villages,' N.P.Takkar said.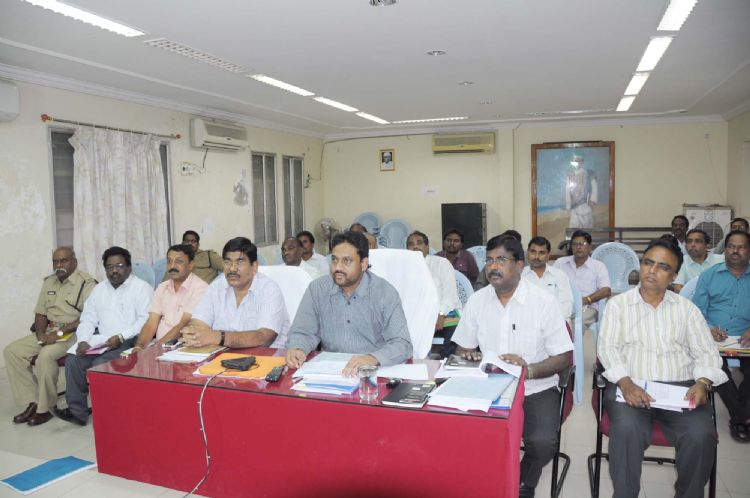 Explaining the need for transforming villages into smart ones as envisioned by Prime Minister Narendra Modi, he asked the district authorities to focus on healthcare, literacy, education, nutrition food, sanitary facilities in each village.

He asked the collector to prepare smart village committee to make smart villages. In this committee collector,retired IAS, IFS and officers should be the members.

He said that the NRIs and NGOs who are interested to participate in smart villages program and who would like to adopt villages should register their names with the district collector till the January 5th evening.

He said that a video conference with CM Chandrababu Naidu will be on January 6th with the district officers especially focusing on smart villages.

The Prakasam district collector said that the growth rate in the district 12.2% and they will identify the agriculture, industrial, service sectors and will take necessary steps to develop these sectors in the district.

He said that cotton, dal and other crops cultivation expanded and encouraged in the district. The lands which are not suitable for agriculture are developed as Aqua farming he added.

He said that Galaxy mining, Donakonda industrial carridor development, Solar power generation sectors are going to develop in the district.

The officers who attended the meeting include Joint Collector Yakoob Naik, CEO Balakrishna Murthy, DRDA PD M.S.Murali, RDO Ramprasad, RWS N.E Murthy, DSO T. Venkateswarlu, LDM L.Narasimharao, TB control officer Ramesh.





News Posted: 3 January, 2015

Be first to comment on this News / Article!




---