Obul Reddy's family slaps legal notice on 'Rakta Charitra'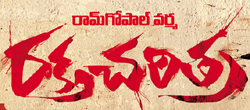 Hyderabad, Aug 29 (INN): Family members of Obul Reddy on Sunday served a legal notice to ace film director Ram Gopal Varma for
depicting him 'maliciously' in his latest cinematic forthcoming cinematic offering 'Rakta Charitra'.

According to information reaching here, Obul Reddy's family approached a court seeking its intervention to restrain the director from including some unsavoury scenes in the film.

The well known film director had earlier on Sunday received telephone calls threatening him with dire consequences if he goes ahead with his political drama 'Rakta Charitra'. According to sources, the calls allegedly came from the Obul Reddy group of Anantapur. Obul Reddy is related to Maddelacheruvu Suryanarayana Reddy, better known as Suri, who is alleged to have plotted the murder of Anantapur TDP MLA Paritala Ravi.
According to sources, Ram Gopal Varma plans to make a political drama, Rakta Charitra, on the life of Telugu Desam Party (TDP) MLA late Paritala Ravi. Vivek Oberoi is essaying the role of Paritala Ravi in the movie.

Mr Varma had received threatening calls for depicting Obul Reddy's character 'maliciously' in the film. The callers sent letters to Ram Gopal Varma's Mumbai office stating that they would obstruct the film shooting for projecting the Obul Reddy in a unsavoury manner.

The film director said that he would lodge a complaint soon with the Mumbai police in this regard. 'Rakta Charitra' is the story of a man's rise to power and a story of an intense and blood curdling conflict between two individuals. Moreover, the story is also the ultimate statement on the often heard disastrous consequences of a fatal mixture of caste, crime, family feuds and politics, Varma had said when talking about the film.




News Posted: 29 August, 2010

Be first to comment on this News / Article!




---