Childrens Talent Show at Bridgewater Temple, NJ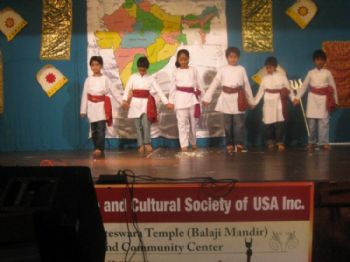 Bridgewater, NJ: Over 250 children participated in a wonderful Children's day program conducted by the Bridgewater Sri Venkateswara Temple on Sunday, November 13th. India's first Prime Minister Jawaharlal Nehru's Birthday is celebrated as Children's Day as he used to love kids so much. Children mostly ranging between 5-10 years of age performed in over 88 items on the stage, Cultural Committee official Janani Krishna said in a press release.

Hindu Temple and Cultural Society's Sri Venkateswara Temple in Bridgewater, New Jersey was established in 1992. Temple has been conducting Children's Day Celebrations for the past 15 years.

This year the Cultural Committee brought new awareness in community adding much definition and structure to the program. The entire program was planned and conducted in less than 30 days by the Cultural Committee.

Elocution Competitions were introduced for Middle school and high school students. There was much enthusiasm and participation from middle school children.

Art gallery is a new introduction this year that was very impressive and extremely well received by all attendees. Children brought their art work and paintings for display that reflected amazing talent.

Group dances were performed both in Classical and folk style. There was no language barrier. Children chanted verses from Vadas, Vishnu Sahasranamam as well as Lingashtakam and Achyuthashtakam flawlessly. Several children participated in solo and group singing Slokas, Bhajans and Devotional songs.

Instrumental music using key board, guitar, flute and violin was also very relaxing listening to Vandemaatharam and Raghupathi Raghava Rajaram.

About 20 children participated in Fancy dress including a set of Triplets in Village Costumes. 'Erukalasani' was a hit as Kannada girl did Telugu version. 'Hanuman' was very cute and received applaud.

Most young parents appreciated and thanked Temple for creating a platform for their children. There were no modern film dances or rock music items which is a note worthy point for future programs.



News Posted: 16 November, 2011

Be first to comment on this News / Article!




---