YSR foundation(USA) organizes YSR vardhanthi

Dr. YS Rajasekhara Reddy Foundation has organized a few events in New Jersey and Philadelphia on September 12-13 to commemorate Dr. YSR's 6th Vardhanthi. Over 900 YSR followers from all across the USA have attended these events, including Rayachoti MLA Gadikota Srikanth Reddy, Kakinada In-charge Sunil Chalamalasetty, Chittoor Ex-MP Gnanendra Reddy and a few others.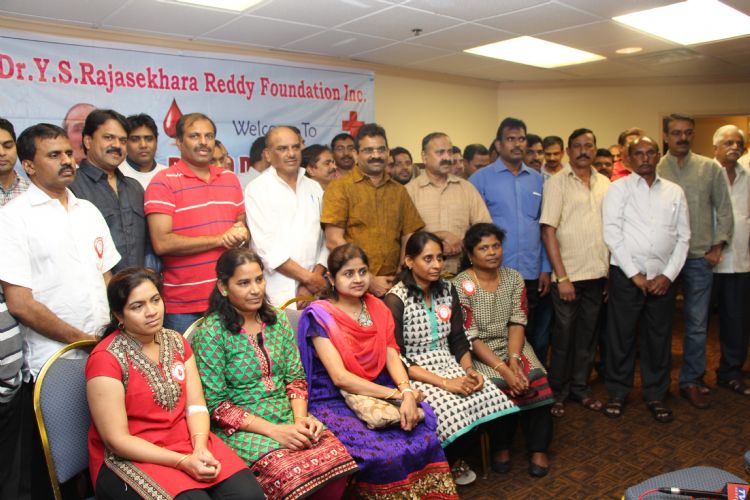 The activities started with a noble blood donation camp in the morning of Saturday in Philadelphia under the leadership and direction of Dr. Raghava Reddy Ghosala, Rajeshwar Reddy, Ramesh Appareddy and Alla Rami Reddy, with the help of several volunteers. Over 130 YSR followers gave blood to Red Cross on the occasion of YSR Vardhanthi and in memory of 9/11 victims. There were over 400 people in the camp, including volunteers and supporters to pay tribute to YSR. Secretary Hari Velkur, Treasurer Shiva Meka, Jt. Treasurer Srikanth Gudipati, BODs Anna Reddy, Sarath Mandapati, Nagesh Mukkamalla, Srikanth Penumada, Chinna Babu Reddy helped to make the events successful.





The evening Banquet program was held at Crown of India, Plainsboro, New Jersey was jam packed with over 500 followers in attendance. Foundation President Alla Rami Reddy explained that core mission of Dr. YS Rajasekhara Reddy Foundation is to continue the legacy of Dr. YSR. Dr. Raghava Reddy Ghosala and Rajeshwar Reddy and Ramesh Appareddy explained the goals of the foundation and explained how Dr. YSR legacy will be taken forward by the Foundation.

Rayachoti MLA Gadikota Srikanth Reddy, in his speech said that YSR has encouraged and guided him to join politics. YSR was dearly missed by crores of people from Andhra Pradesh. Srikanth Reddy was eloquent in explaining how Dr. YSR worked for poor, needy, farmers, students, and senior citizens. During YSR regime every sector has shown growth and IT sector growth was unimaginable. YSR's dream program Jalayagnam has helped villages of each and every districts of combined Andhra Pradesh state. Farmers were very happy during his regime. Srikanth Reddy praised Dr. YSR Foundation for doing such great work to community and he is very happy to witness the affection of NRIs towards YSR.

Sunil Chalamalasetty, in his speech said that Dr. YSR has a great heart and always thought of helping poor people. YSR has helped each and every section of people through his popular programs like Pavalaa Vaddi, Free housing scheme and became a role model for generations of the leaders to come. Everyone was happy during his period and it is a great loss for combined Andhra Pradesh. Sunil has requested every NRI to help fulfilling the dreams of YSR and do charitable work in India. Sunil said Dr. YSR Foundation help to the community is commendable and blood donation camp with 130 donors is a humongous task.

Chittoor Ex-MP Gnanendra Reddy and several speakers spoke emotionally and eloquently to touch the audience. Most of the speakers shared their personal experiences with Dr. YSR and praised his courage, commitment, discipline, and determination.

Rami Reddy Alla, Rajeshwar Reddy Gangasani, Dr. Raghava Reddy and Ramesh Appareddy explained Dr. YS Rajasekhara Reddy Foundation activities in detail .

Dr. YSR Foundation elected new Executive Committee

Dr. YSR Foundation Board Meeting and General Body meeting was held at Holiday Inn Princeton. New Board for 2015-2017 term took over Dr. YSR Foundation and Board has elected the following: Rami Alla Reddy as President, Srikanth Gudipati as Vice President, Anna Reddy as General Secretary, Vishnu Kotimreddy as Treasurer, Raghu Rami Etukuri as Joint Secretary, Sarath Mandapati as Joint Treasurer and Shiva Meka as Past Committee. State Coordinators and other Working Committee chairs were also announced.

The Foundation thanked all the audience for attending the event and showing the affection towards Dr. YSR. Thanks to media partners TV5, NTV and HMTV for covering the event. Thanks to Anna Reddy for taking care of all the arrangement for the Banquet and Board meeting, and also thanks to Foundation Media Committee Chair Sridhar Thikkavarapu for helping with Pictures and Videos. Thanks to Naveen Buchi and Ram Vakada for taking care of the chief guests. Thanks to the Foundation Volunteers Committee Chair Sathya Pathapati and State Coordinator Nagi Reddy Vuyyuru, and volunteers for helping with arrangements at New Jersey. Thanks to Pennsylvania volunteers team including Ramamohan Kallam, Madhu Gonipati, Vijay Polamreddy, Tata Rao, Anand Thondapu, Ajay Yaratha, Prasad Sanikommu, Chandra Reddy, Srihari Pamanji, Sridhar Gudeti, Sudhakara Reddy, Jyotheeshwar Reddy, Manish, Rajasekhar Gade, Ramakanth Jonnala, Venkataprasad Raju, Sathya Adem, Pratap Jakka, Srinivas Vangala, Lakshminarasimha Reddy Konda, Lakshmi Mukkamalla, Sandhya Lingala, Rajani Palagiri, Geetha Dornadula and all the volunteers for taking care of the arrangements at the Blood Drive.

Special Thanks to Foundation leaders including Hari Kurukunda, Dwarak Varanasi, Praveen Pattemgur, Vamsi Bommareddy, Anjan Karnati, Vijayabhaskar Reddy Yate and Venkatarami Reddy Sanivarapu. Thanks to all the committee members and guests who flew from other parts of the country. Thanks to Kiran Mukthapuram, Ramagopal Devapatla and their team from Maryland, Krishna Reddy, Ramesh Reddy and Ram Parasad Reddy from Virginia and also Srinivas Vasireddy from Connecticut for attending and showing their solidarity for the blood drive and banquet.

Dr. YS Rajasekhara Reddy Foundation thanked the Red Cross for their excellent arrangements for the blood drive and Brooke Glen Behavioral Hospital, its CEO Neil Callahan, and its staff for their invaluable support. YSR Followers thanked the foundation committee members for doing such a great work and helping the needy.




News Posted: 16 September, 2015




---