Huge response to NATA health fair in New York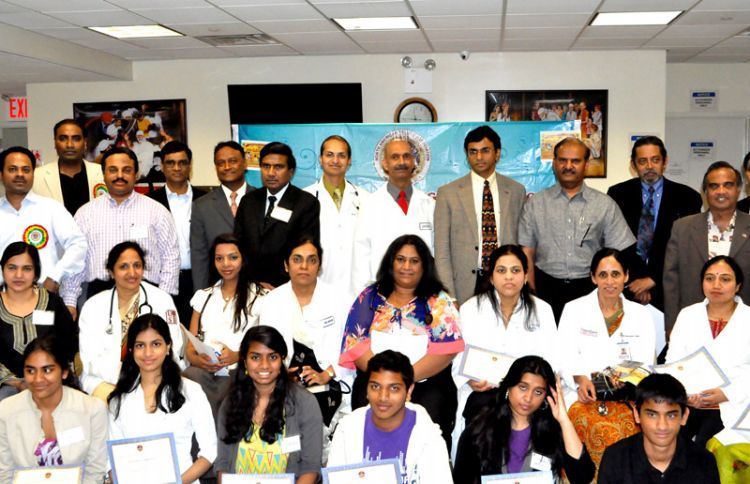 New York, May 3: North American Telugu Association (NATA) conducted free Medical Camp in collaboration with TLCA at the Sai Baba temple in Flushing, NY on April 29, 2012. This event benefited over 200 patients. About 17 doctors from various specialties have volunteered for this event and provided free healthcare services to over 210 patients.

This event was coordinated by Vikram Jangam, Narasimha Reddy, Prabhu Goud, Krishna Maddipatla, Vishnu Kotimreddy, Sridhar Kumbala, Linga Reddy, with the help of Dr. Malla Reddy Pailla (NATA advisor), NATA BODs Pradeep Samala, Chinnababu Reddy, Dr. Stanely Reddy, Phani Bhushan Tadepalli, RVP Rami Reddy Alla, Srinivas Ganagoni and TLCA Executive committee members.

The organizing team thanked physicians who provided their medical services at this camp. The medical comprises of Drs. Anuja Reddy, Bhaskar Yeturu, Damodar Thambireddi, Kavitha Reddy, Lalasa Valasareddi, Mahlakshmi Venigalla, Meera Boppanna, Nalini Paddu, Radha Voleti, Raj Verma, Rajesh Desai, Saroja Thambireddi, Sharath Bhoomi, Sridevi Bhoomi, Stanley Reddy, Vandhana Oruganti and Uma Rani Putane.

The team thanked Sai Mandir organization, particularly Sid Kamath Rao for providing premises and arranging the breakfast and lunch to volunteers and doctors.

They thanked Flushing Hospital for offering Free Mammogram and Colonoscopy services, Dr. Stanley Reddy for arranging these services and Dr. Anuja and Dr. Bhaskar for arranging health history forms, and Pavan Darisi for donating Blood Glucose kits. Several patients utilized these diagnostic tests.

Many youth provided volunteer services including Abhijit Kudaravalli, Eshwar Dommaraju, Harika Thambireddi, Meghana Reddy, Mounika Thambireddi, Navya Voleti, Prathyusha Gudur, Rohan Chnitarlapally, Rohith Krishna Reddy, Sandeep Voleti, Sanyal Reddy and Soumya Valasareddi. They received certificate of appreciation from NATA. Krishna Maddipatla arranged volunteer nurses.

The team thanked YUPP TV for broadcasting this event live and Vishnu Kotimreddy and Rami Reddy Alla for coordinating this task.



News Posted: 3 May, 2012

Be first to comment on this News / Article!




---