JCI Ongole Bullets Installation Ceremony

Ongole, February 2: The 2nd installation ceremony of JCI Ongole Bullets and The new team has been installed in a glittering ceremony held at NTR Kalakshetram on February 1st, 2020 at 7.30 pm.

Dr. Madasi Venkaiah, PDCC Chairman was the Chief Guest, JCI PPP N.Ramakrishna was the Guest of Honour on the occasion, while JC Dr.T.Ravikumar was the Key-note speaker, Zone IV President JC PPP Rajitha Poosarla was the Installing Officer. JCI Ongole Bullets is one of the youngest and most active LOM of Zone IV. The Chapter has reputation of great membership strength, organizing quality and large canvass projects and providing leadership skills at every arena. Some of the major success stories of JCI Ongole Bullets are Medical Camps in Remote areas, Active Participation In Clean India Drive, and Eradication of Poverty and hunger and Blood donation camps.


The new team of JCI Ongole Bullets is as follows:-

The new team includes JC K.Suresh (President), Jc M.V. Subbarao (Secretary), Jc G.S.Ravikumar(Treasurer), Jc M.Lakshmi Narayana(Joint Secretary), Jc A.Chinna Raja, (Joint Treasurer), Jc M.Ravindra, JC G.Rambabu, Jc M.B Swaroop, Jc Ch.Satish (Dir, Jc A.Vamsikrishna as Vice Presidents, Jc N.M Kumar, Jc K. Sumanth, Jc Sekhar, Jc K. Suresh Peluru, Jc K.Sairevanth, Jc. N.Hareesh as Directors.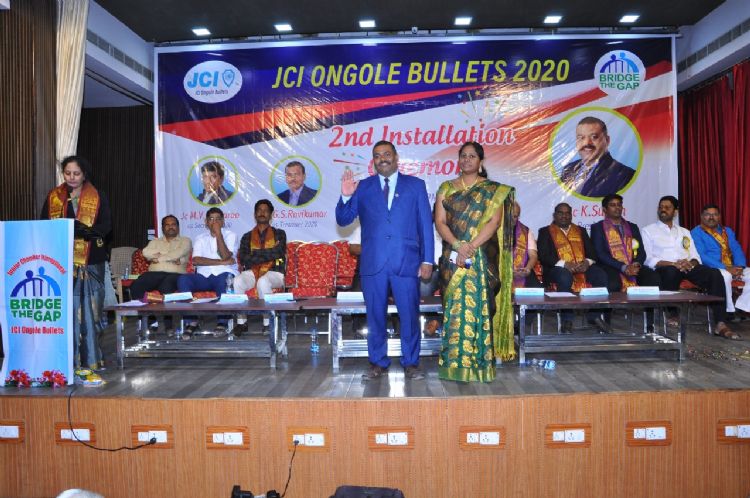 The chief guest Dr. Madasi Venkaiah addressed the gathering regarding the active participation of Jci Ongole Bullets for the welfare of the society and personal development of its members. He also suggested that how to do more program for the welfare of the society, so that benefit of JCI philosophy can percolate to more number of people, and gave the example of Shri Vivekananda.

Keynote speaker the motivator of Zone IV Jci Dr.T.Ravikumar was prominently present and graced the evening with his motivating ideas and boosted the moral of new members of Jci Ongole Bullets and also appreciated the chapters working.Jc PPP Rajitha Poosarla was the installing officer and concerned President of the Chapter, gave the OATH to the new members. The event commenced with lighting of traditional lamp and 30 new members took oath during the event. Jc M.Ramireddy handed over the Presidential responsibilities to newly elected president Jc K.Suresh.

The newly elected President in his presidential speech requested all the Chapter Governing Board members to give their valuable time, support and timely suggestions when and where required to take this young chapter to its great heights.




News Posted: 3 February, 2020




---