Articles:
Recipes
టమాటో కాజూ కర్రీ
- Mrs. tirumala devi konagalla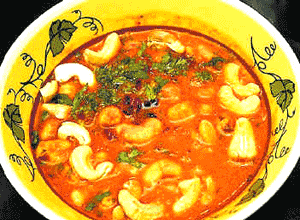 Ingredients: Tomatoes (riped) - 1/4kg Onions (big) - 2 Green chillies - 6 Cashew nuts - 50 grams Ginger garlic paste - 1 table spoon Garam masala powder - 20 grams Chilli powder - 10 grams Oil - 50 ml Salt - to taste Procedure: 1)Take tomatoes in a vessel and boil them. Peel their skin and make a gravy or a paste in a mixy jar. Chop the onions vertically. split the green chillies. 2)Take a frying pan and pour oil into it and heat it gently. First fry the cashews and put them aside. Fry the onions until they turn into brown colour and add ginger paste, chillies and tomato paste and heat until it boil. Add salt chilli powder, cashew and garam masala. Serve it with rotis or chapathis.


Read 1 Comment(s) posted so far on this Article!

Advertisements


Advertisements