Articles:
Devotion
శరణంటిమో కమలాపతీ
- Mr. venkataramayya putrevu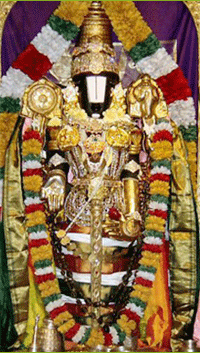 రమాసహిత శ్రీ వెంకటేశుండవై, ఈ తిరుమలక్షేత్రాన కొలువున్న శ్రీ శ్రీనివాసా! దినదినము నీ దివ్య నామావళులె జపించుచున్, నీ పవిత్రోరుపదాబ్జములే శరణంటిమో కమలాపతీ!! శ్రీరమణా!నీ సందర్శనమే మహాభాగ్యము, నీ సంసేవనంబె నిత్యానందదాయకం: ఆశ్రితజనమందారా! శ్రియఃపతీ! నిన్నే నమ్మిన నీవారమో నీరజాక్షా! మమ్మేల జాగేలరా మంగామనోనాయకా! కరుణతో మమ్మేలుమెప్పుడు కరుణాపయోనిధీ!! పాలసంద్రాన శేషతల్పమున శయనించిన జగన్నాధా! అకలంకస్థితి నిన్ కొల్చువారల అఘంబులుబాపి, శుభంబుల నిత్తువటంచు, సల్లలిత నీపదపద్మంబులే నాదు మదిన్నిల్పి కొల్తు అనయంబు,యో! జలజాతప్త్రనయనా, లక్ష్మీరమణా నీ కరుణార్ధ్ర దృష్టిన్ ప్రసరించి, బ్రోవవయా, కామితఫలదాయకా, కమలాపతీ!!


Be first to comment on this Article!

Advertisements


Advertisements