Soumya; Our Own Telugu juliet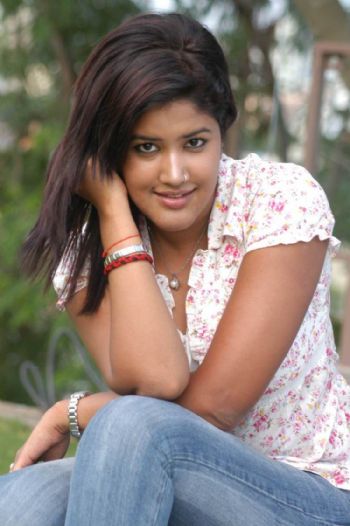 Hyderabad: Soumya Bollapragada is a 'padaharanala Telugu ammayi', but she says she hardly looks that way.

A quintessential Telugu girl from Visakhapatnam, she made her mark with The Angrez and has acted as lead actress in a Kannada film, Brindavana Colony. Now, she is high on her new release Mugguru.

Excerpts from an interview with Soumya:

How did your career begin?

I started with modelling in college and got trained under Koushik Ghosh, who has guided Susmita Sen during Miss Universe. I modelled for KPL Coconut Oil ad in Kerala which is still on air. I also acted in Sun Flower shopping mall ad, Anarkali Boutique ad and others.

Many do not know that I am a poetess as well who bagged three international awards in poetry. I also ran a monthly magazine Evoke for three and half years in Vizag. I have my own English dramatics group Applause.

What about your family?

My dad Divakar is a marine engineer. and I got the opportunity to travel a lot. My mom is a house wife. My family is progressive and have allowed me to travel alone and follow my dreams. I hold a Bachelor degree in English literature and Psychology from Andhra University.

How did your debut into movies happen?

My theatre background helped. I acted in a play in Andhra University and was spotted by Kuntaa Nikkil, director of movie The Angrez. It is a Hyderabadi film and ran successfully up to 395 days.

I went on to act in Aroje, in a lead role in ace director Dasari Narayana Rao's Young India. Now, I am back with Mugguru. I also hosted Jollywood Express , a comedy show with actor AVS on Gemini TV. I also hosted Zee Sound Party on Zee Telugu.

You have acted as Dasari's daughter in Young India. How is working with him?

He is an institution. It was a workshop. and he trained all the cast for two and half months. After that, we underwent a screen test through which we are selected for respective roles in the film. He is very systematic and disciplined.

You have done both TV and on silver screen. Which medium do you prefer and why?

TV requires long working hours which I cannot handle now. Silver screen is bigger medium through which we can reach the masses.

What roles do you aspire for?

I want to do traditional roles, the role of typical Telugu girl. Luckily, I don't have language barrier as Telugu is my mother tongue.

What are your upcoming films?

I am doing Ramadandu with Krishnudu. I play a reporter in this film.

Your parting shot?

Follow your heart, always.




News Posted: 31 August, 2011

Be first to comment on this News / Article!




---