Scotland Delegation met Jupally

A Scotland delegation met Jupally Krishna Rao, Minister for Industries , Handlooms & Textiles and Sugar, Government of Telangana on 14th May 2015 at Secretariat.

The team was led by Julian Taylor - Executive Director - Asia Pacific for Scottish Enterprise (Commercial arm of the Scottish Government), a very senior member of Scottish Enterprise's Executive Leadership Team and accompanied by, W Theodare Immanuel ,Business Development Manager - South India, and Rooma Kumar Bussi, Country Manager-India, Scottish Development

The purpose of visit of delegation is to understand about Telangana State and its new Initiatives, Encourage Trade & Investment links between Scotland and Telangana across sectors, Explore opportunities to work together, Offer support on behalf of the Scottish government.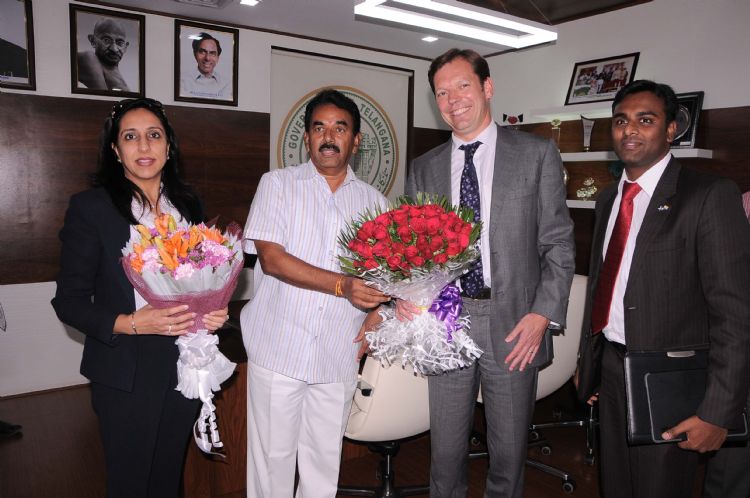 The Minister for Industries appraised the team about the New Initiatives taken by the Government of Telangana under the able leadership of K. Chandrashekar Rao Garu, Chief Minister of Telangana,.

Minister explained the team about the salient and unique features of New Industrial Policy of Telangana, that our policy intends to provide a business regulatory environment where doing business would be as easy as shaking hands. Innovation and technology will drive the industries of the Telangana State., the government playing the role of a facilitator and a catalyst. The government is committed to provide a graft-free, hassle-free environment in which the entrepreneurial spirit of local, domestic and international investors will thrive to take up their industrial units in the state of Telangana as the preferred investment destination.

Minister told the delegation about presence of top class Institutes like, ISB, IIT, IIIT and Research Institutes like CCMB,NIPER etc. and about readily availability of skilled human resources locally and the proposed Skill Development Policy with Industry Academia Linkage.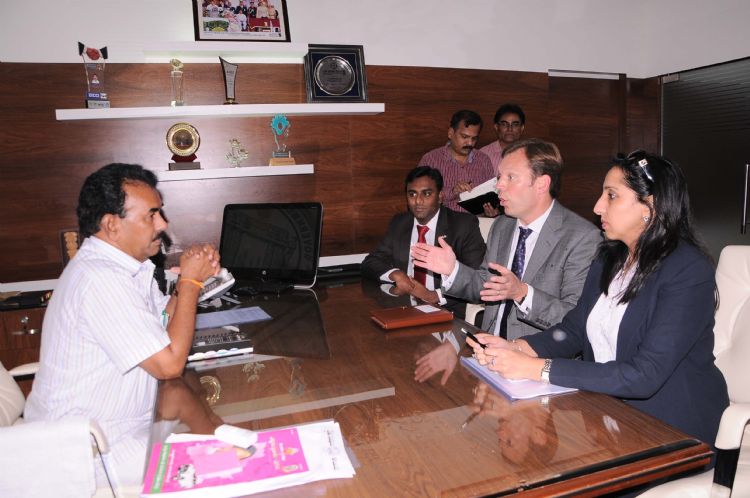 Minister told about the availability of huge Industrial Land Bank, Good Physivcal and Social Infrastructure, Development of Sector specific Parks ( Pharma City, Textile , Medical devices and Food Park etc.,), NIMZ, Industrial Corridors, ITIR , Availability of Quality Power, Water etc.

Minister explained the delegation about TS-I PASS Act and the hassle free system in place for arranging Industrial clearances to Mega Projects within a period of 15 days time, and also about Fiscal Incentive He has also explained about our thrust & core sectors-i.e, Life Sciences, Textile and Apparel, Agro & Food Processing, Defence & Aerospace, Food Processing, IT, Hardware and Renewable Energy, etc., where there is abundant opportunity for Scotland to Invest in Telangana.

Scottish team stated that they are interested more in Life Sciences & Pharma Sectors ,Renewable Energy : Solar and Wind, Water Management, Education , Digital Literacy system, smart city Minister stated that under the leadership of Chief Minister Sri. K. Chandrashekar Rao garu, Telangana Govt is working
on Hyderabad City Development on Par with other World Class Cities on Globe, through construction of multi level flyovers, Skyways and also through Metro Rail Project in implementation. He said the option for collaboration between Hyderabad city and Scotland is open and can be Minister requested the delegation to submit a comprehensive proposal showing the areas of interest for investments where the tie ups can be made for mutual benefit of Telangana and Scotland and to strengthen trade relations.

Julian Taylor and his team thanked Minister and said that they want to visit Hyderabad again along with their Ministers along with firm proposals. Minister invited Scotland to become Partner Country for the next Bio-Asia event of the Telangana Government scheduled for February. Minister assured all possible support and cooperation to the investors in arranging conducive environment and quality services from the Government machinery.




News Posted: 15 May, 2015




---