Rahul Gandhi to visit Telangana soon

Hyderabad, Jan 2 (INN): Congress president Rahul Gandhi is likely to visit Telangana in the third or fourth week of January.

This was disclosed by Telangana Pradesh Congress Committee (TPCC) President Capt. N. Uttam Kumar Reddy in an informal chat with media persons at Gandhi Bhavan on Tuesday. He informed that Rahul Gandhi will address Dalit, Girijan, BC 'Atma Gaurav' (self respect) Sabha in Warangal. He said Rahul Gandhi's tour schedule will be finalised soon.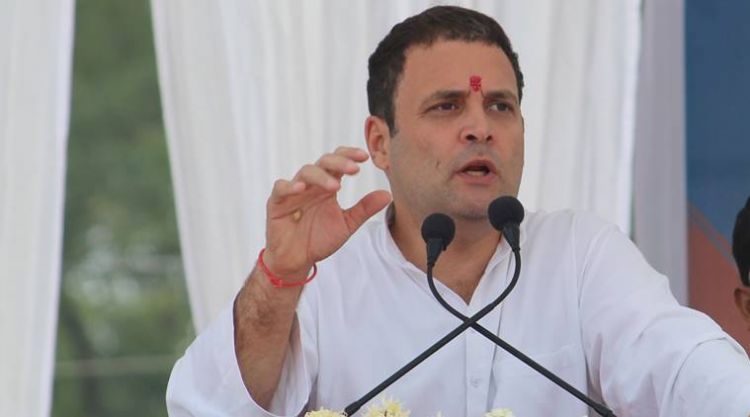 Uttam Kumar Reddy also informed that several TRS leaders, including a few sitting MLAs, were in touch with him and many of them are likely to join the Congress party after Sankranti festival. He said that all surveys, conducted in recent past, have revealed that the Congress has got an edge over TRS in popularity graph. He claimed that the Congress party would register a grand victory in next elections with a clean sweep in South Telangana. He said if elections are held today, then the Congress party would win more than 70 seats.

Commenting on Jana Sena chief and cine star Pawan Kalyan praising Chief Minister K. Chandrashekhar Rao for supplying 24 hour power to agriculture sector, he said Pawan Kalyan had no knowledge about energy sector and therefore, he might have got influenced with the false propaganda. He said KCR Government did not achieve anything and the entire credit for overcoming energy crisis goes to previous UPA Government. He said 26 out of 29 States in the country are now energy surplus. In view of huge power deficit in 2013-14, the then Congress Government started several power projects and had completed about 70-80% works. Energy production increased due to the commissioning of those projects and TRS is trying to take credit for the same. He reiterated that the power projects, launched after KCR became Chief Minister, did not generate a single unit of power. He said that the Chief Minister was trying to mislead the people by giving huge advertisements in newspaper.

Uttam Kumar Reddy said that that the party senior leaders, who met at Gandhi Bhavan today in the presence of AICC Secretary Telangana Inchage R.C. Khuntia, discussed several issues including steps to be taken to strengthen the organisation at booth and mandal levels. He said that the process of appointment of Social Media coordinators was on and appropriate changes would be made in the organisation as and when required. He said that the entire party would be on stand-by mode to face the next elections.

With regard to Karnataka Transport Minister Revanna praising KCR on power issue, he said that the Congress High Command has been briefed about it seeking action against him.




News Posted: 4 January, 2018




---