I love adventure: Nisha Agarwal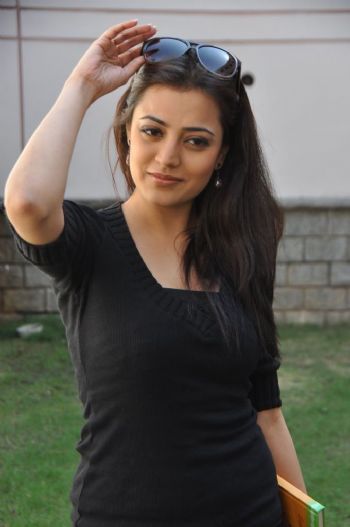 Hyderabad: Nisha Agarwal has no qualms in admitting that her sister Kajal is the more beautiful of the two, but she has great plans for herself. She just loves jumping off planes. The first time she did that was a couple of years ago in Chicago.

'I jumped off a plane from 20,000 feet above sea level. It was a 9,000 feet free fall before I pulled out the parachute. It was exhilarating; I don't have words to describe it. You just have to try it once in life,' says Nisha excitedly, describing her love for adventure. In fact, her sister Kajal had reservations about it. 'My sister was in two minds but I coaxed her into doing it,' she adds.

Apparently the inspiration to such things comes from a little list she's made for herself. 'It was just one of the many things to do in my bucket list,' says Nisha. For someone in her early 20s, a bucket list is a little premature one would think.

'The list keeps getting updated quite regularly and has many new additions,' she adds laughing. 'One of my priorities is being featured on the cover of a magazine and being one of the audience in a TV show and some wild things like bungee jumping, looking for more exotic places to go to and so on and so forth,' shares Nisha.

Acting is also one of them. 'I had seen my sister do it for a bit so it was one of my many fancies,' she says. But when it did happen it came as an unexpected surprise.

'I had quit my internship at a company to prepare for GMAT and do my MBA abroad. I got an opportunity to do a role in Emaindi Eevela. I thought I could do my MBA even after I turn 40. But might not get a chance to act then. So, I went ahead and did it,' she explains.

Now she's quite smitten by all the show and the fame. 'I love the whole experience and sort of got drawn into acting,' she says. Nisha is shooting for actor Nara Rohit's next venture, Solo.

'I play a very simple small-town girl who moves to a big city to pursue her studies. She is very attached to her family and is rooted in tradition,' she says talking about her role in the film. She is also acting in the Tamil film, Ishtam a remake of her Emaindi Eevela.

She doesn't let the comparisons with her elder sister Kajal affect her too much. 'The comparisons are inevitable; even I compared Kareena and Karishma Kapoor. People will always say she is better looking and she has a better body, etc. If the comparisons are in your favour you just smile at them, and forget about the not-so-nice things,' she says.

We couldn't resist from hearing it from the horse's mouth. 'I think my sister is more beautiful than I am,' she says nonchalantly. And apparently she did not get away with any special treatment for being the youngest kid in the family. 'I was as pampered as my sister. My parents always treated us both the same way,' said she.




News Posted: 5 September, 2011

Be first to comment on this News / Article!




---