Gandhi Peace Walk successfully held in Dallas

Dallas, TX: Mahatma Gandhi Memorial of North Texas (MGMNT.org) has hosted a special vegetarian and non-alcoholic gala banquet on Friday, October 2nd at Park Plaza Towers in Dallas. More than 300 who is who of the community members attend the banquet. Taiyab Kundawala, Co-chair, MGMNT explained the theme of the banquet and welcomed gathering to celebrate 146th Gandhi Jayanthi. Sukanya Bharatram, great granddaughter of Mahatma Gandhi, attended the event as a Keynote Speaker. She did an excellent presentation on Kasturba Gandhi who was the backbone and great supporter of Mahatma Gandhi until her last breath.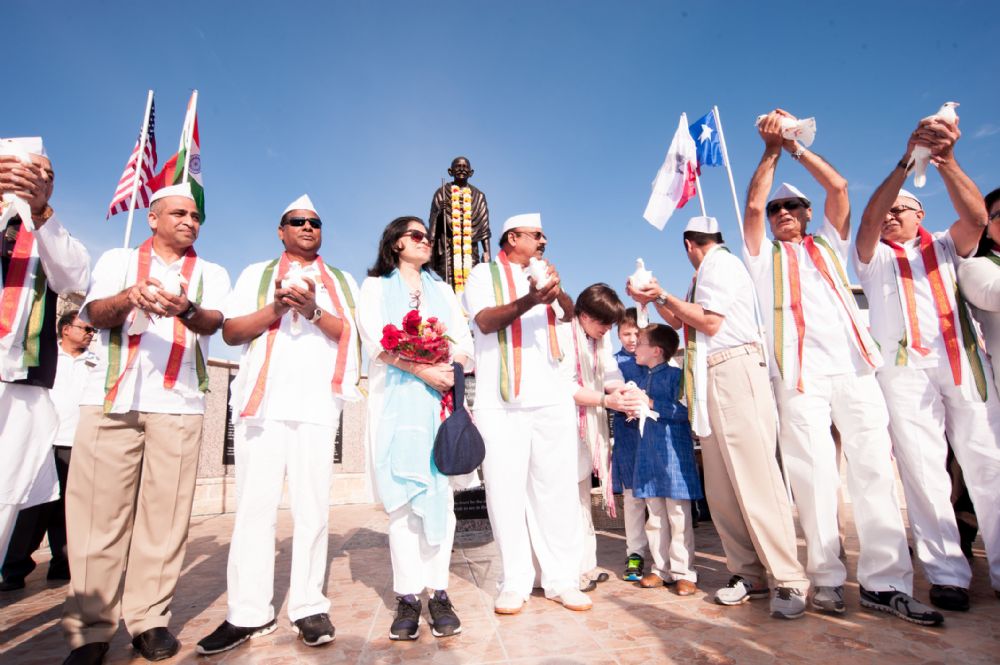 Dr. Prasad Thotakura, Chairman, MGMNT in his opening remarks stated that Gandhi always wanted GramSwaraj and encouraged Khadi, small scale industries and dreamt of Self-reliant villages. He urged all to use Khadi and Kuteer products as much as possible to support thousands of workers who depend on these industries in India. Dr. Thotakura thanked Irving Mayor Beth Van Duynne for supporting to have Mahatma Gandhi memorial in Irving, Prime sponsors Mr. & Mrs. Ramesh Bhatia, Trammell Crow, Dr. & Om Singla, Dr. Paul Pandian, Dr. Hirabhai Patel, Pepsico and FunAsiA.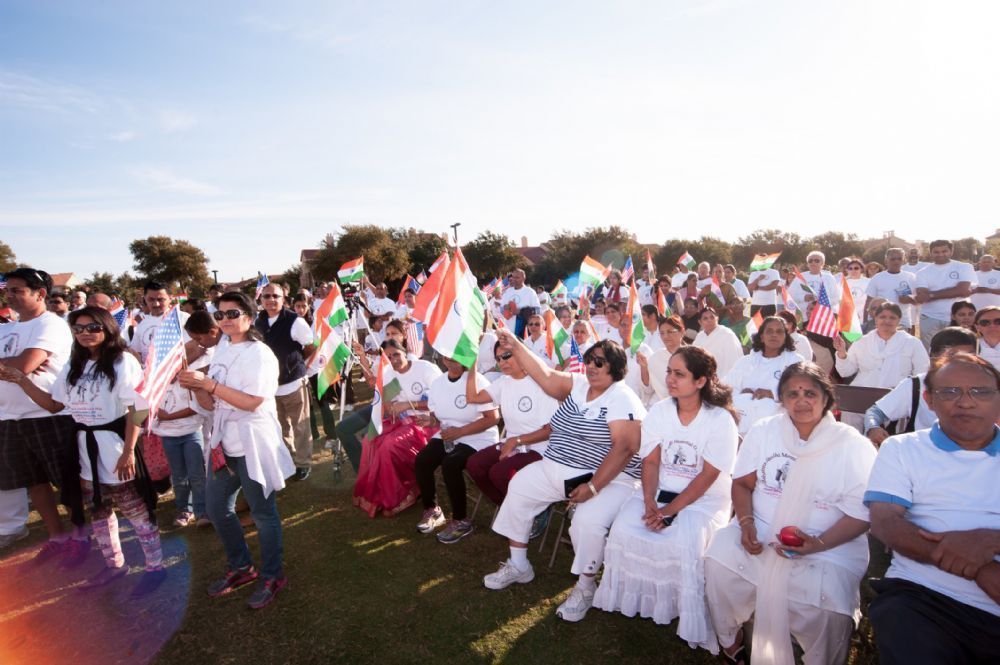 Mayor Beth Van Duynne thanked the Indian American community for their great contributions to the country and especially to the City of Irving.
Dr. Srinivas Gunukula, Co-chair, MGMNT thanked all the community members and organizations for their unconditional support to all community activities.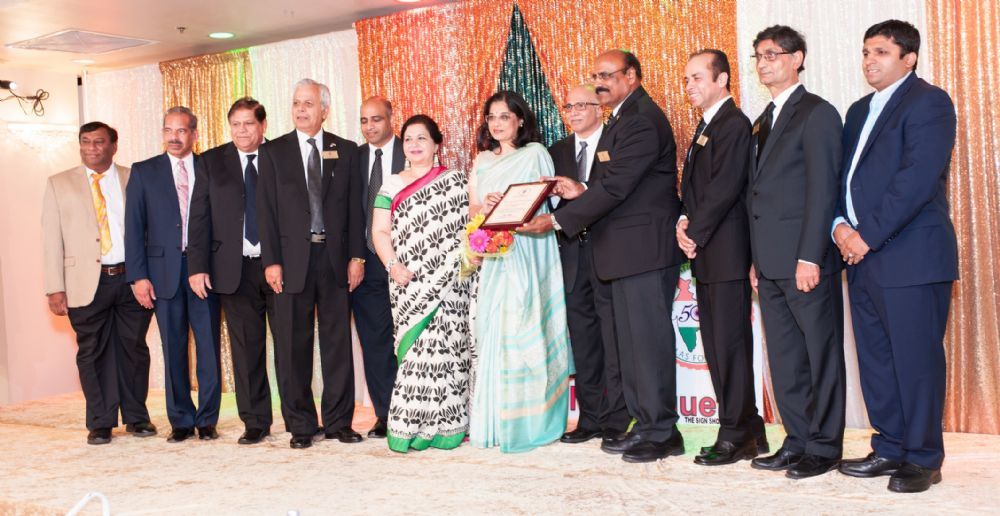 MGMNT Chairman, Dr. Prasad Thotakura and Team members Taiyb Kundawala, Piyush Patel, Jack Godhwani, Dr. Srinivas Gunukula, Shabnam Modgil, and John Hammond, MVL Prasad and C.C. Theophine presented 'Distinguished Service Award' to Sukanya Bharatram. She is currently serving as a Trustee of 'Kasturba National Trust' and also Co-founder of 'Akshara Cultural Trust' which is devoted to support needy children and women, conduct youth training programs, help mentally and physically challenged children in India.





Shabnam Modgil, MGMNT Board of Director in her closing remarks thanked all attendees, Keynote Speaker Sukanya Bharatram, Chief Guest Mayor Beth Van Duynne, Amy of Crow Collection of Asian Arts, FunAsiA and all sponsors and supporters for their great support to the Mahatma Gandhi Memorial project.

On Saturday, October 3rd, at the Mahatma Gandhi Memorial Plaza MGMNT organized 'Gandhi Peace Walk' that was led by the India Association of North Texas (IANT).

Sukanya Bharat Ram attended as a Chief Guest of honor and reminded of Gandhi's efforts throughout his life for peace and harmony that was spread all over the world and influenced great people like Martin Luther King, Nelson Mandela. More than 600 people attended the event in white clothes. Rao Kalvala, Secretary, MGMNT in his welcome address stated that Gandhi Peace-walk at Mahatma Gandhi Memorial, the largest Gandhi landmarks in the USA has a greater significance to current generation and generations to come. Gandhi's messages must be carried forward. Mr. Kalvala appreciated the hardwork and efforts of Dr. Prasad Thotakura, the Initiator & Chairman of Mahatma Gandhi Memorial for his vision in making the community's dream of having Mahatma Gandhi Memorial in the heart of the metro area as realty.
Dr. Prasad Thotakura, Chair, MGMNT stated that the essence of the Gandhi message is Sarvodaya ' Welfare of all which is possible only with equality and mutual respect. He was much ahead of his times and he is more relevant to our times than his own times. He emphasized the Gandhi's value foundations of society ' Truth, nonviolence, Love, Compassion and Equality and requested all to strive for a better society where everyone is treated equally and mutually respected.

Dr. Srinivas Gunukula, IANT President & Co-chair of MGMNT, in his opening remarks stated that IANT has been in serving the community for decades, appreciated the efforts of MGMNT team for having the greatest Gandhi memorial, the DFW Indian-American community for their great love and respect to Mahatma and requested the crowd for their continued support to all community activities.

Shabnam Modgil thanked UPASANA for presenting Bhajans, providing Pepsico for snacks, Nagesh Dindukurthi, Bhima Penta, Zoher Barmal and scores of other volunteers for their remarkable help in making all needed arrangements to make the event successful. T shirts, fruits, US and India flags were distributed to all attendees.

Akshay Wani, IANT President-elect and MGMNT Board of Director in his closing remarks thanked youth participants who gave an excellent speech on Mahatma Gandhi and his ideals. He kicked off the peace walk along with Chief Guest Sukanya Bharat Ram.

MGMNT Board Chairman Dr. Prasad Thotakura and Board of Directors - Taiyab Kundawala, Dr. Srinivas Gunukula, Rao Kalvala, Jack Godhwani, Akshay Wani, Shabnam Modgil, John Hammond, Piyush Patel and Board of Advisors MVL Prasad and C.C. Theophine along with the Chief Guest Sukanya Bharatram released ten white doves to symbolize the 'Peace & Harmony'.





News Posted: 5 October, 2015




---