Protest intensified, threatens Prof Kodandaram

Hyderabad, Dec 25 (INN): Telangana Political Joint Action Committee chairman Prof Kodandaram on Sunday said that the JAC would spearhead protest if the state government continues with its anti-people policies.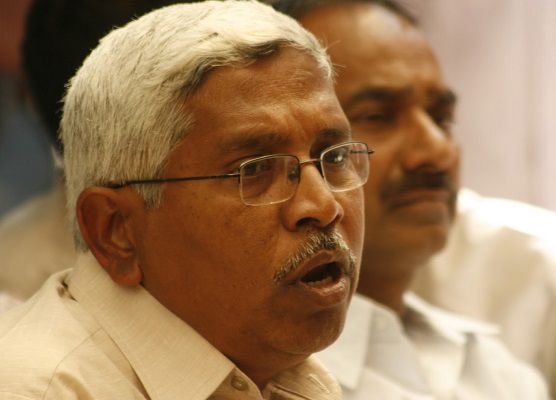 Speaking to media persons after the meeting of JAC here, Prof Kodandaram said that the TJAC has decided to conduct a series of protests and meeting in the coming months on various people's issues. Professor said that a dharna would be orgainsed in Hyderabad to protest against the forcible acquisition of land of farmers by the state government for various projects on December 29.

The JAC will orgainse various programmes dealing with issues like education, employment in the month of February, the JAC chief said. He said that the JAC delegation will inspect the works of Mission Kakatiya and Mission Bhagiratha at various places in the state during the month of March. Likewise the JAC will organize programmes and protests on the issues like caste-based occupations and cottage and small scale industries.

Accusing the TRS government of not fulfilling various poll promises, the JAC chief demanded the state government to immediately take steps to regularize the services of contract staff as promised. He demanded the government to release the PRC arrears of government staff.

Stating that the farmers are going through tough times in the state, JAC demanded the government to waive off farm loans in one go. He also demanded the state government to announce agriculture policy.

The JAC also demanded the government not to forcibly take away the lands of Adivasis in the name of projects. He demanded that the Anti-defection Act should be strictly implemented and those defection parties should be dealt accordingly.

The JAC demanded the government to not go ahead with its private varsities bill. It also demanded the government not to scrap zonal system and advised the government to form a committee to study the issue before taking a final call.

Prof Kodandaram said that the people of the state had faith in the TJAC and rallied behind it. He said that the JAC would lead the protest if the government fails to deliver on its promises.




News Posted: 25 December, 2016

Be first to comment on this News / Article!




---