Jharkhand scored 293 against Andhra

Ongole, Nov 1: ACA organised 3 day match at PDCA Sarma College cricket grounds, Ongole. Jharkhand made 293 allout in their first innings against Andhra at stumps first day in the under-19 cricket league match for the Cooch Behar Trophy. Andhra won the toss and elected to field and Jharkhand put to bat first. Jharkhand opener Reyaz Khan and Alam set 25 run partnership for first wicket in their innings scoring 11 (66b) and 22 (26b) runs respectively.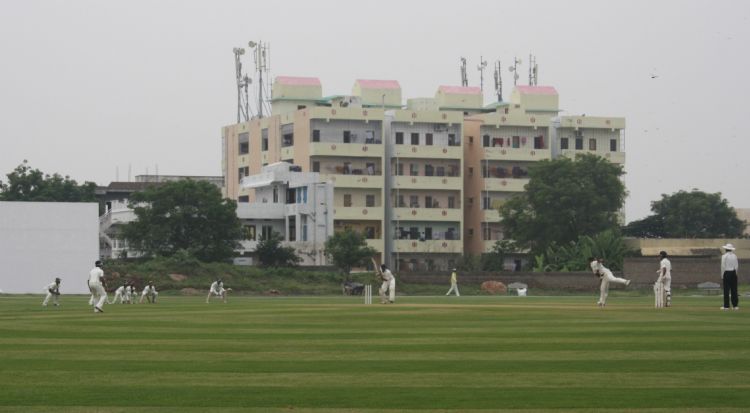 One down batsman Benz studied the innings with stunning knock of 76(163b)runs and out as a LBW to Karthik. Then Sumeet kumar and Sharukh out for low score.

Kaushal Singh went on to further consolidate their innings by adding 131 runs in 214 balls for the fifth wicket with Benz.

Tailender Yohan masih scored 41 runs in 51 balls. Finally Jharkhand allout for 293 runs in their first innings. Andhra bowler Karthik bowled with good length and took 6 wickets for 78 runs.

Then Andhra started first innings, Jharkhand bowlers bowled with good length and Andhra score at the end of the day is 0/0 in 2 overs in their first innings.

Score:
Jarkhand 1st inngs 293/10 in 82.5 overs

Kausal Singh 88 ( 110 balls, 15x4, 1x6)
Wilfred Beng 76 ( 163 balls, 11x4)

Andhra bowling

I. Karthik Raman 20.5 overs - 5 madins - 78 runs - 6 wkts
Ch. Surendra 2/61

Andhra 1st inngs 0/0 in 2 overs

Ch. kranthi kumar 0*
G. Jayawardane 0*

For more photos, please visit:
http://www.telugupeople.com/SportsGallery/gallery.asp?id=467




News Posted: 1 November, 2014

Be first to comment on this News / Article!




---